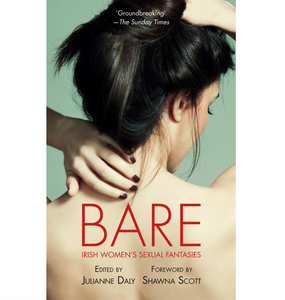 Collection of Irish women's sexual fantasies

Foreword by Body Grá owner, Shawna Scott
Inspired by 1973's bestselling book My Secret Garden by Nancy Friday, Bare takes an intimate look at the fantasies of the women of Ireland of every age. Author/editor Julianne Daly conducted a comprehensive survey and gathered stories from women living across the island of Ireland, asking them to share and describe their sexual fantasies in explicit detail. There's also a treat for native Irish language speakers, as one fantasy is written entirely as Gaelige!
With a foreword by Shawna Scott, owner of BodyGra.ie and SexSiopa.ie, Bare strives to shine a spotlight on a subject that was once  (and often, still is) considered taboo. Opening a fresh dialogue on women's sexuality, the stories vary from the tender and romantic, to the surprising, to the provocative, with many beautifully written. These stories are told by women, for women, providing a riveting glimpse into the modern Irish women's innermost sexual thoughts.