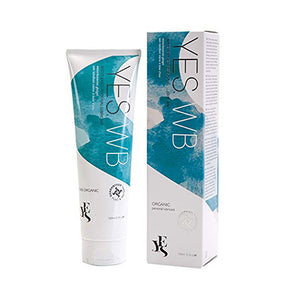 Replenishes body's natural moisture
Glycerine & Paraben free
Free of smell or taste
pH balanced
Compatible with toys & condoms
Hypoallergenic
Vegetarian friendly
Yes is one of the UK's most trusted lubricant brands, having won several awards for their products as well as their commitment to ethics. Their water based lubricant has a lovely thin consistency that you would barely know was there. It is pH balanced, hypoallergenic and free from any glycerine or parabens, which is excellent news for folks who are prone to infection or irritation.
Body Grá recommend Yes Water Based for vaginal intercourse and use with dilators or toys. For daily natural lubrication replacement that isn't for intercourse, we recommend Yes VM.
Ingredients: Aqua (water), Aloe barbadensis (Aloe vera)*, Cyamopsis tetragonolobus (Guar Gum)*, Ceratonia siliqua (Locust Bean Gum)*, Linum usitatissimum (Flax extract)*, Phenoxyethanol, Potassium sorbate, Xanthan Gum, Citric acid.
*Organically grown ingredients